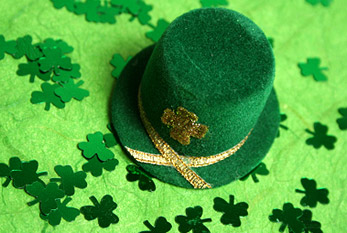 Happy St. Patrick's Day everyone! Here is another tag going around Youtube. I get really into these random "holidays"! I was so excited when I saw this going around Youtube!
Questions
:
What is your favourite:
1. Shade of green?
2. Green makeup item?
3. Green nail polish?
4. Green eyeshadow/eyeliner?
5. Green makeup packaging?
6. Green item of clothing?
7. Green food and drink?
8. Random green thing you own?
9. Do you wear green on St. Patrick's day?
10.What do you do if you see someone that isn't wearing green on St. Patrick's Day?
11. What was your best St. Patrick's Day?
Answers
:
1
. Green is my favorite color! I have to say that my favorite shade of green would be the more "earthy" "amazonian" grassy green, though I love mostly all shades of green. Here is the shade I'm talking about:
I also love minty green :).
2
. Green Eyeliner! I don't usually wear green eyeliner since it doesn't compliment me well.
Check out my
St.Patrick's Day tutorial
for more info.
3
. Mint green nail polish. Essie's "Mint Candy Apple" and China Glaze's "Refresh mint" are really pretty pastel green colors. Also pistachio green is supposed to really in this spring. I'll probably do I post on this later. I can't say I'm a big fan of green nail polish though :/.
China Glaze "Refresh mint"
4
. Like I said in question 2, eyeliner! A dark forest green looks good with those with green eyes.
5
. I don't have any green make up packaging...sorry, can't answer this question!
6
. I simple green v-neck is one of those staple pieces that you can wear year round. However, I'll probably be wearing a cuter green top on St. Patrick's Day! *side note. Green clothing can really compliment red heads, like this photo:
7
. I love pistachios! They are probably my favorite nut. I also love mint oreos as well as sweet mint gum. I also love artichokes. As for green drinks...I don't really drink green drinks, but it would have to be limeade.
8
. Random green thing I own... I think that it would be....my fuzzy socks.
9
. Yes! I always wear green on St. Patrick's Day :).
10
. If I don't know them, I don't really care or mind, but if it's someone I know, then I might pinch them...
11
. Probably just St. Patrick's Day when I was little in general. We used to make traps and what not, and look for the "leprechaun" that left prizes for us.
Thank you for reading! I tag ALL of you!
Happy St. Patrick's Day!
Also, checkout my St. Patrick's day tutorial: (
link
)
Photo Credits:
First Photo: http://www.cute-calendar.com/event/st-patricks-day/5782-ireland.html